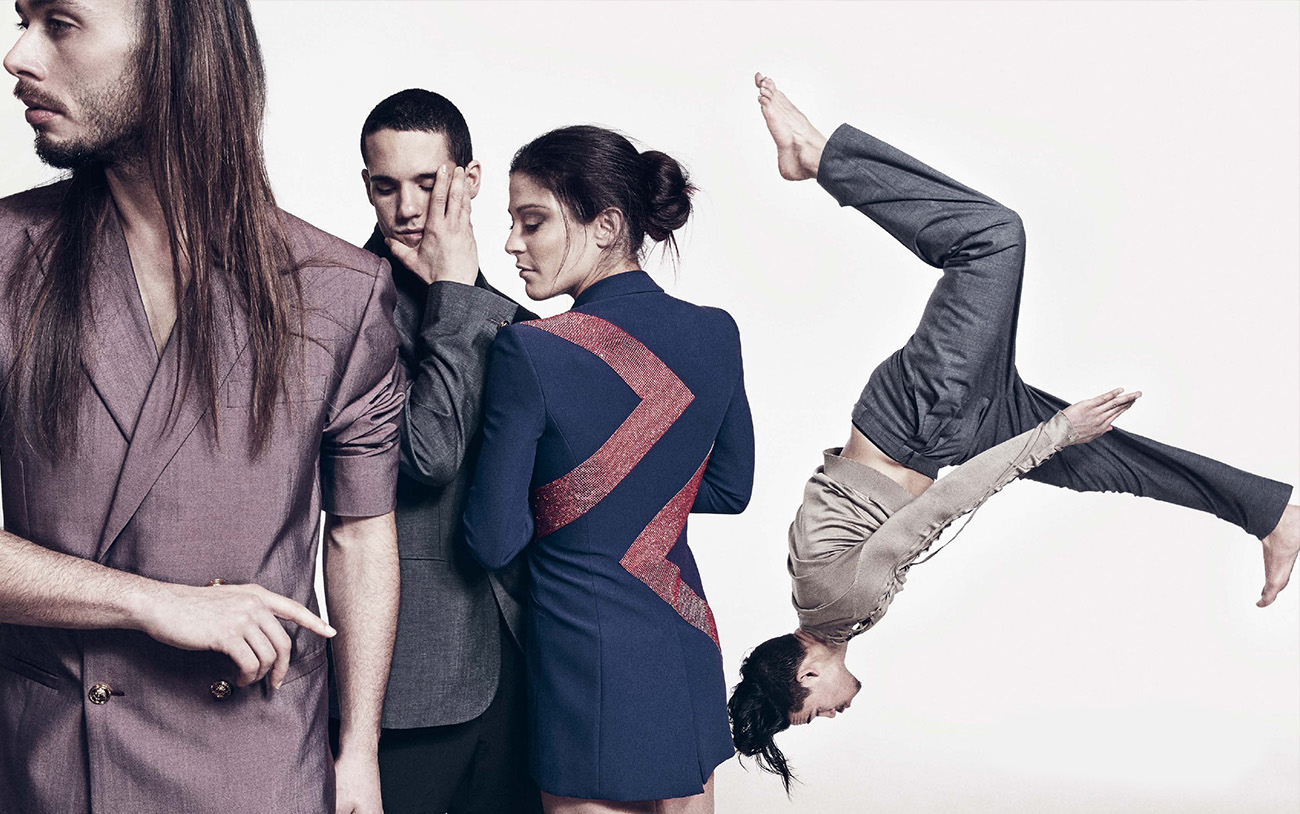 Rolling Stone
Are we human or are we dancers? - 2015
Versace + Katalò the magic of staging sensuality
A collective of athletic dancers Kataklò, suspended between dance and theater, choreographed the "desire for the impossible" interpreting the sensuality of the Versace brand.
A double-breasted jacket that abdicates its meaning, pleated pants that don't remember what rigidity is, a Fassbinder-esque fishnet tank top that shies away from a sense of ambiguity, punk signs that fluidize, finding peace: that of Versace with Kataklò (from the
Greek "dance by bending and twisting") is an encounter under the banner of reversal, dissociation. They share an adventurous and experimental spirit, the idea of dance as an expression of sensuality through movements and the body, just as Donatella Versace's sartorial creations are expressions of sensuality. The Maison was the first to introduce the concept of risk into fashion, even legitimizing aesthetics relegated to the peripheries of taste. She made the principle of showmanship her own in fashion shows, drawing inspiration from theater, ballet and art, affirming the stylistic framework that everyone recognizes. Brand identity still and always lies in constant change and is rooted in the music scene and rhythm. So here is Kataklò Athletic Dance Theatre, an extraordinary company of revolutionary athletes, dancers and acrobats, founded in 1995 by Giulia Staccioli.
Always, and then with the show Love Machines (debuted in 2010), a clear homage to Leonardo Da Vinci's studies of the human body and the
machines, the challenge is in forcing limits, zeroing in on gravity and evading all boundaries by creating abstract suggestions. Kataklò defy all physical laws in a syncretism to the sound of music and dance steps: dark atmospheres alternate with sweet moments, music by Marilyn Manson and Lou Reed melt into exotic-scented notes.
There is a sense of continuity even in this current episodic but important partnership. The friendship and collaboration between Maurice Béjart and Gianni Versace gave birth to numerous ballets until the tribute at La Scala Theater. Many years have passed, but the sum of talents remains a privilege of those who can and do mix languages and offer new possibilities to the imagination. The dynamism of the Kataklò and the versatility of a fashion – that of Donatella Versace – that knows how to keep up with the times could not fail to bring surprises. Because beauty has no boundaries.