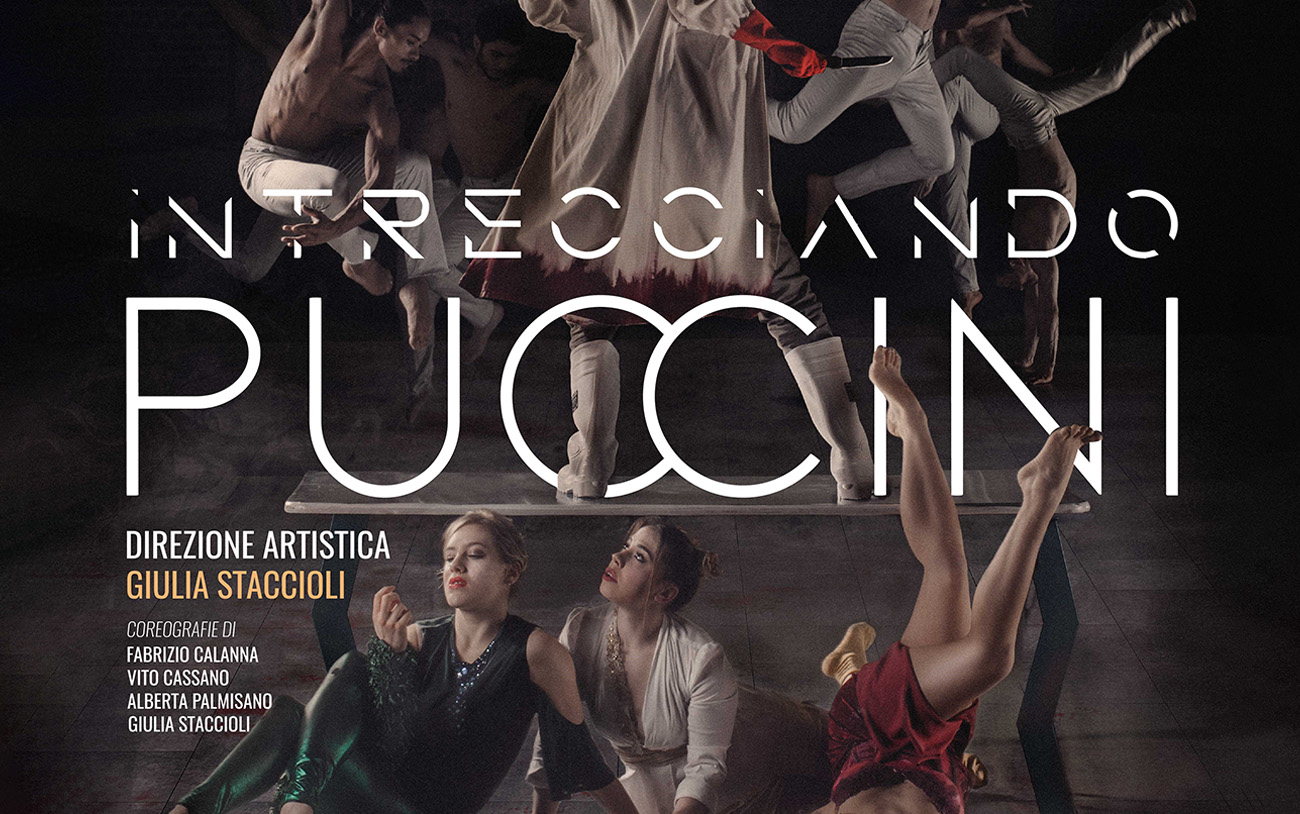 Intrecciando Puccini
Teatro Oltheatre al DeSica - 6 e 7 Aprile 2019
Via Don Luigi Sturzo 25, Peschiera Borromeo (MI)
Intrecciando Puccini, an Oltheatre and Accademia Kataklò production, is the new choreographic project created by Giulia Staccioli from an original idea by Vito Cassano, with the contribution of Accademia Kataklò master-choreographers Fabrizio Calanna, Vito Cassano and Alberta Palmisano, will be staged in its NATIONAL PREMIERE at OLtheatre at De Sica in Peschiera Borromeo on April 6 and 7, 2019.
The show is a collaboration between Accademia Kataklò Giulia Staccioli, the first professional training and initiation academy dedicated to Athletic Dance Theatre performers, and Oltheatre at the De Sica in Peschiera Borromeo: on stage 10 performers with the creations of 3 master choreographers. The Intrecciando Puccini production is an opportunity to test the skills acquired in the three-year training program and to experience the true meaning of doing theater professionally, inaugurating the Young Kataklò Company project.
"Every year young people from all over Italy come to the Academy in Milan and their paths meet at the auditions: different stories and skills, common dreams and hopes," says Giulia Staccioli, choreographer, artistic director of the Academy and creator of the project. "This is an alternative training path to give quality and credibility to a multifaceted performer figure, certainly outside the box, but in demand even in traditional artistic realities. Through hard work, enthusiasms, and the desire to grow as people and as artists, under the guidance of qualified teachers, these young people have built themselves as well-rounded performers and are now on stage with this new professional opportunity."
Intrecciando Puccini is a show not for everyone, but for many: it is a creative and collective work that wishes to give an alternative key to our very Italian musical heritage, an interweaving of Puccini's operatic melodies, a choral production that bears the signatures of 3 master choreographers with unique styles.
Each choreographer brings a heroine to life: Tosca, Madame Butterfly and Turandot, three women, three loves, three timeless stories, 3 aspects of a single and varied female entity. Each with its own destiny to fulfill in the hands of a Puccini-machine frantic dispenser of cruel fates.
A performance to intrigue an audience interested in artistic contaminations, to rediscover a national historical musical repertoire with meanings and content that are still extremely relevant, and to enjoy the quality of the physical, theatrical, aerial and choreographic gesture of the 10 performers on stage.
A work with the right balance between message and aesthetics, with an essential but evocative set design, between tension and emotion, with the intensity and irony typical of Staccioli's language, who carves out for this project the role of provocateur, stylistically binding the choreographic creations. A Puccini to be experienced, listened to, rediscovered.
Artistic Direction: GIULIA STACCIOLI
Music consultant: SANDRO DANDRIA
Lighting design: ALESSANDRO VELLETRANI
Choreography: FABRIZIO CALANNA, VITO CASSANO, ALBERTA PALMISANO, GIULIA STACCIOLI.
On stage: MITIA CARLI, NICCOLO' CATANI, LUCA CIULLA, LUIS COLOMBO, GIORGIA MAGRO, ERIKA RAVOT, ALICE TAGLIAFERRI, FRANCESCO TOMASI, DANIEL TOSSEGHINI, LUCA ZANNI.
OLTHEATRE AT DE SICA
via Don Luigi Sturzo 25 – 20068 Peschiera Borromeo (MI)
From Milan: bus 66 to 50 mt from the theater/MM3 +902 from San Donato
For info 02 5165 0936 www.oltheatre.it and www.facebook.com/oltheatredesica