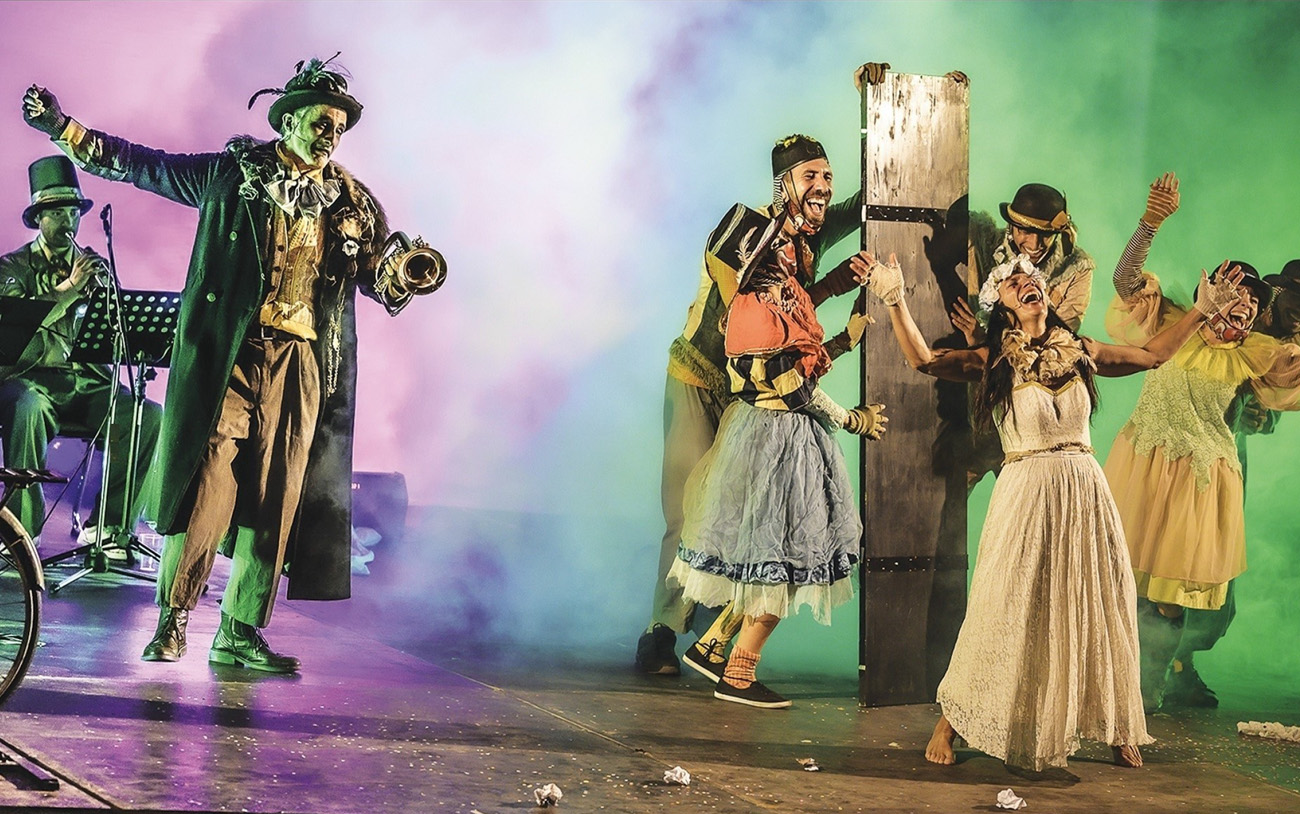 Fellini
Teatro Blu 9 Novembre 2022 ore 21:00
On the 100th anniversary of his birth, Teatro Blu, in collaboration with the extraordinary Kataklò, wants to celebrate and pay tribute to one of the greatest figures of world cinema with a dreamy, magical, passionate, sometimes spirited and sometimes melancholy journey. A choral tale, crowded with fantastic characters, like the life and imagination of the great Rimini master. A show in which theater mixes with circus arts, acrobatic dance, dreamlike atmospheres, multimedia images accompanied by live music that will perform Nino Rota's most beautiful melodies.
The dreamlike yet so carnal, earthly universe of Federico Fellini told through the unforgettable characters of his films from Gelsomina, a monument of naiveté and purity to Zampanò, gruff and ruthless with a tender soul, via the village madman, clowns, peasant girls and the imaginative characters of Amarcord. Dreamlike atmospheres in which stories of ordinary everyday life, country and party scenes, improbable scenes and extreme visions and illusions alternate through clownish appearances and breathtaking choreography. A visionary portrait and a series of heterogeneous and absolutely unforgettable paintings and portraits, strongly characterized. The countryside, the school, the caricatures of gymnasium teachers, the family lunch and the street where encounters are never random and where everything happens…
But first of all the circus! A great passion, a lens through which to look at the world. The white and august will hover throughout the show giving rise to comic gags and poignant moments evoking atmospheres reminiscent of the 'clochard universe, underclass images from the court of miracles. The circus world, the melancholy of the clown and then again the places so important in his films with his immortal and unforgettable characters, fascism, war, the slow and dense life of the countryside.
The whimsical, humorous, dreamlike style brought to the stage by a cast of actors, clowns, acrobats and circus performers who, in a rarefied atmosphere, will tell the unrepeatable universe of a unique and unforgettable man and artist. A set design inspired by the drawings and films of Federico Fellini.
Projections, words, gestures, and then the music of composer Nino Rota, for a multidisciplinary experience using different artistic forms, a total, totalizing experience.
A show in which theater is mixed with circus arts, acrobatic dance, dreamlike atmospheres and multimedia images accompanied by live performance from the melodies of Nino Rota. The variety of movement present on stage, from circus arts to acrobatic dance, is the result of the skills of the individual members of the Young Kataklò Company, thus not specialists in individual fields but complete performers.
With: Silvia Priori and Roberto Gerbolès
Performers: Luis Colombo, Giorgia Magro, Erika Ravot, Francesco Tomasi, Luca Zanni
Choreography: Giulia Staccioli
Artistic collaboration: Vito Cassano
Assistant choreographer: Irene Saltarelli
Voice: Francesca Galante
Orchestra: Ciro Radice (accordion and piano), Giuseppe Cima (trumpet), Gianni Virone (saxophone), Stefano Risso (double bass), Norberto Cutillo (percussion)
Costumes: Vittoria Papaleo and Maria Barbara de Marco
Video set design: Simona Picchi
Text and direction: Silvia Priori and Roberto Gerboles
ph. @Gullermo Fiorenza
For info: Municipality of Vigevano