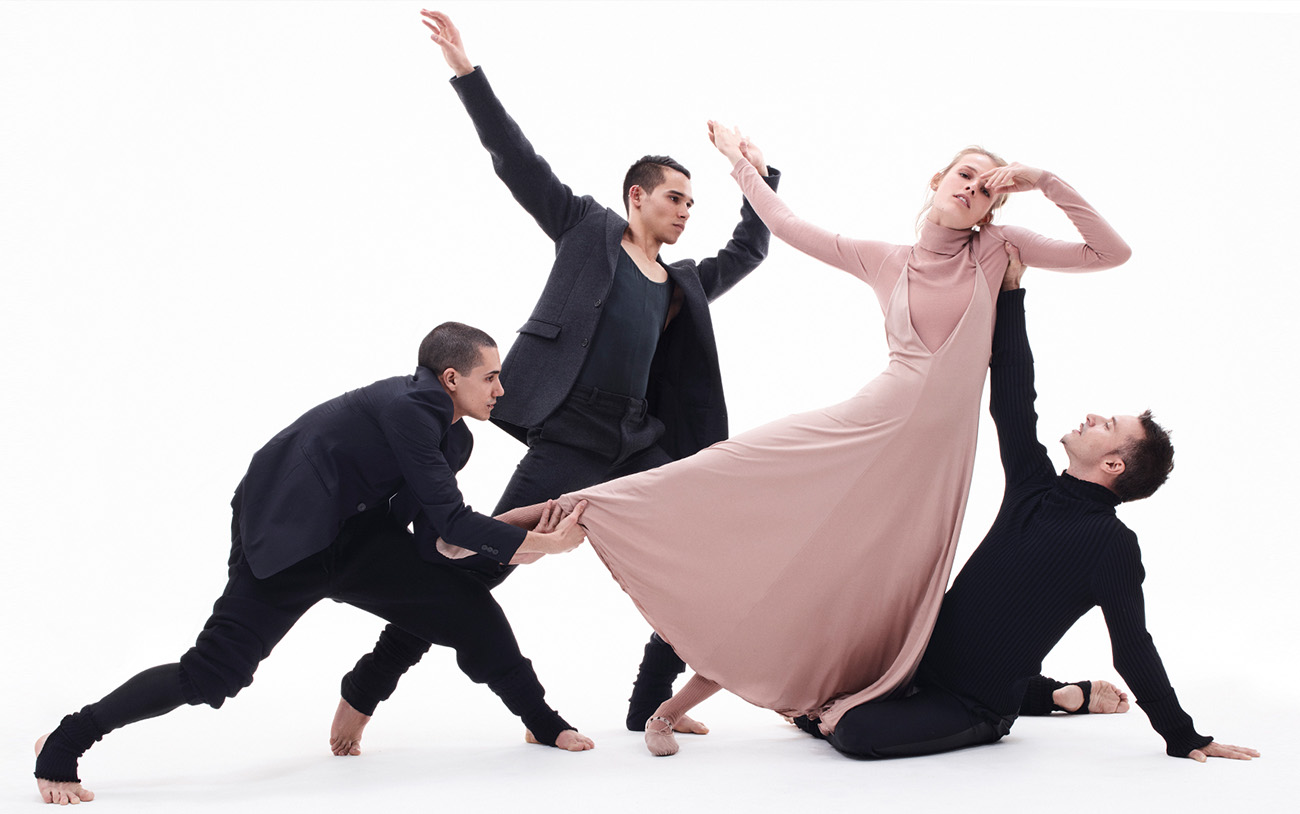 D di Repubblica - Prove di Scena a Corpo libero
ph. Emilio Tini | styling Milva Gigli (2016)
Kataklò dancers with photographer Emilio Tini for D di Repubblica magazine.
D was started as an annex of Republic in May 1996 by Daniela Hamaui. It later became an independent weekly magazine that was distinguished by its "breakthrough" format compared to other women's publications because it gave ample space to current issues through journalistic contributions borrowed from La Repubblica. This feature makes D appreciable even by a male audience.
Applied feathers for wool vest and long skirt, Twinset S. Barbieri. Ballerinas, Miu Miu
Silk jersey dress, cashmere turtleneck sweater and socks, all Valentino, tassel ballet flats, Valentino Garavani. For the dancers, from left. Wool jacket, Emporio Armani, pants, 120%. Jacket and pants, Jil Sander, jumpsuit, Freddy. Turtleneck and mohair pants, Valentino.
Two-tone shearling coat, MSGM, suede top and pants, Fabiana Filippi, satin ballet flats, Porselli. For him. Cashmere pants, 120%. Chair, 100fa.
Shaved fur jacket, Golden Goose Deluxe Brand, tulle dress with silk and sequin appliqués, Au Jour Le Jour, ballet leotard, Freddy, zebra-print leather shoes, Gucci. For him. Nappa leather jogging pants, Drome.
Long tulle dress with embroidered crystals and feathers, Gucci. For him. Jacket, Emporio Armani, sweat pants, Woolrich.
Pleated velvet long dress, Ralph Lauren Collection, ballet flats with crystals, Miu Miu. For the dancers: turtleneck and crew-neck sweater, Falconeri; pants, Jacob Cohën, Drome and 120%.
Pleated skirt dress and brassiere top, Bottega Veneta; shearling ballet flats, Miu Miu. For him. Wool suit, Boss.
Tulle dress, John Galliano, leotard and ballet shoes, Freddy, necklace with crystals, Swarovski, leg warmers, Porselli. For him. Dance suit, Freddy, sweat pants, Woolrich.